SUPPORTING HEALTHY JOINTS
The Key To Overall Joint Health
Joints are highly complex structures that require synchrony between the structure and function of bones, muscles, ligaments, tendons, cartilage and nerves to perform properly. In addition to maintaining a healthy weight and regular exercise, nourishing the cells that make up this complex ecosystem is key to overall joint and musculoskeletal health.
By design, joints are intended to buffer the strains and stresses of everyday motion. The constant wear and tear can take a toll on joint health. By incorporating a daily regimen of nourishment to the cells that support the musculoskeletal system and joint structures you can help maintain the health of your dog's joints to help keep them mobile and active as long as possible.
KEY NUTRIENTS THAT IMPACT JOINT HEALTH:
Creatine – Helps maintain muscle mass.
Collagen – Provides structural and functional support UC-II

®

as a collagen extract does offer immunomodulation, after ingestion, by allowing the T-cells to become "familiar" with free collagen.
Omega-3 Fatty Acids – Help support a normal inflammatory response which may help relieve occasional joint stiffness.
Antioxidants – Help counteract damaging free radicals that attack healthy cells.
Glucosamine – Building blocks for synovial fluid, cartilage and connective tissues.
Glycosaminoglycans – May stimulate the production of proteoglycans which help maintain the health and resiliency of joints and connective tissue.
PARTS OF A JOINT AND THE (KEY NUTRIENTS THAT NOURISH THEM)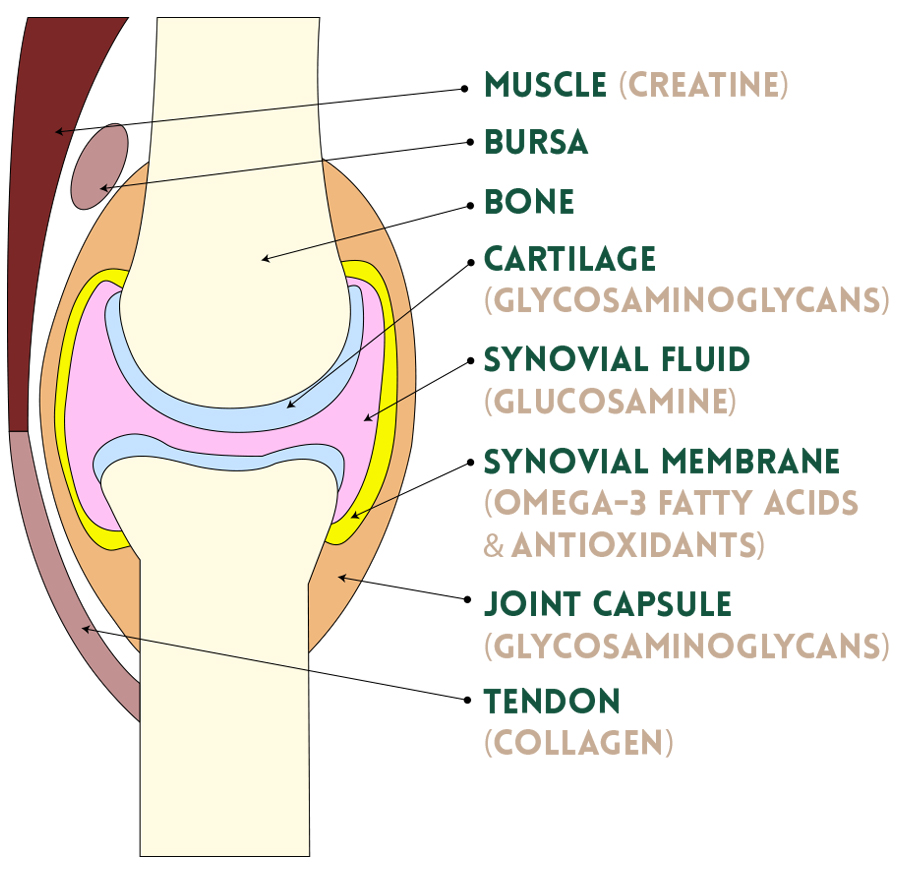 UC-II® is a registered trademark of InterHealth Nutraceuticals
Help keep your dog mobile and make sure he is comfortable everyday by supporting his healthy joints.