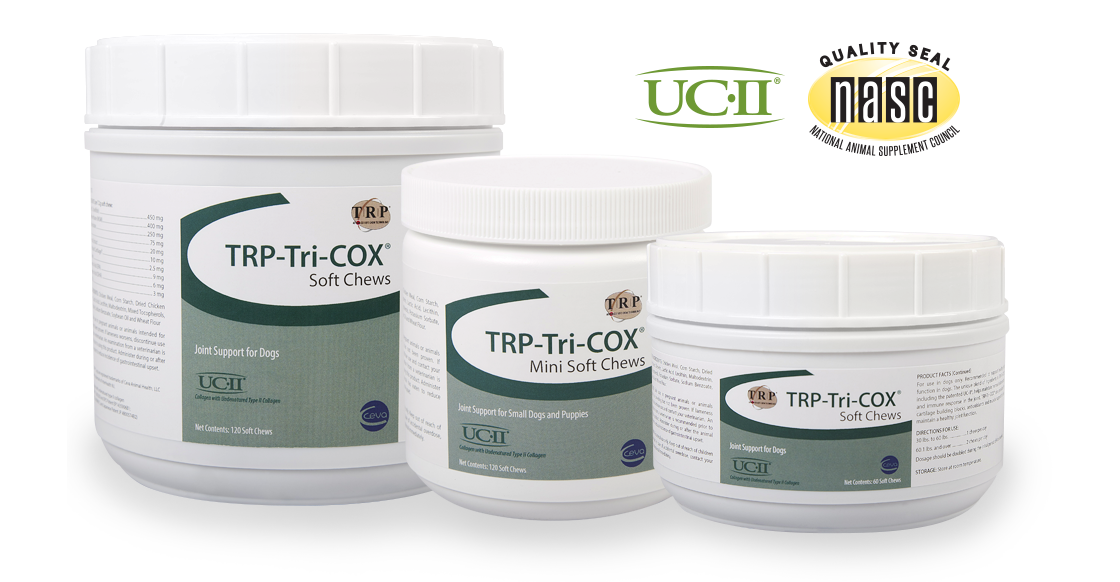 TRP-Tri-COX®
Helps Ease Joint Stiffness Due To Normal Daily Exercise And Activity
TRP-Tri-COX® Soft Chews contain a unique blend of ingredients to help support your dog's joint health.
UC-II

®

is a patented collagen extract that helps support the normal function of the immune system within the joint.
Boswellia Extract and Omega-3 Fatty Acids helps support a normal inflammatory response which may help relieve occasional joint stiffness.
Astaxanthin is an antioxidant that is 6,000 times more potent than vitamin C. Antioxidants help remove damaging free radicals that attack healthy cells.
Glucosamine and MSM are building blocks for synovial fluid, cartilage and connective tissues.
Creatine helps maintain muscle mass.
Bromelain helps maintain normal healing process in joint and muscles.
UC-II® is a registered trademark of InterHealth Nutraceuticals
Is TRP-Tri-COX

®

Right For Your Dog?
TRP-Tri-COX® is for dogs who experience occasional joint stiffness due to normal exercise or activity.
Chicken meal is the number one ingredient of TRP-Tri-COX®. TRP Soft Chew technology locks in freshness making it a moist and tasty snack for dogs. TRP-Tri-Cox® is available in regular and mini-formula to suit dogs of different sizes.