ABOUT
Synovial Flex Advanced™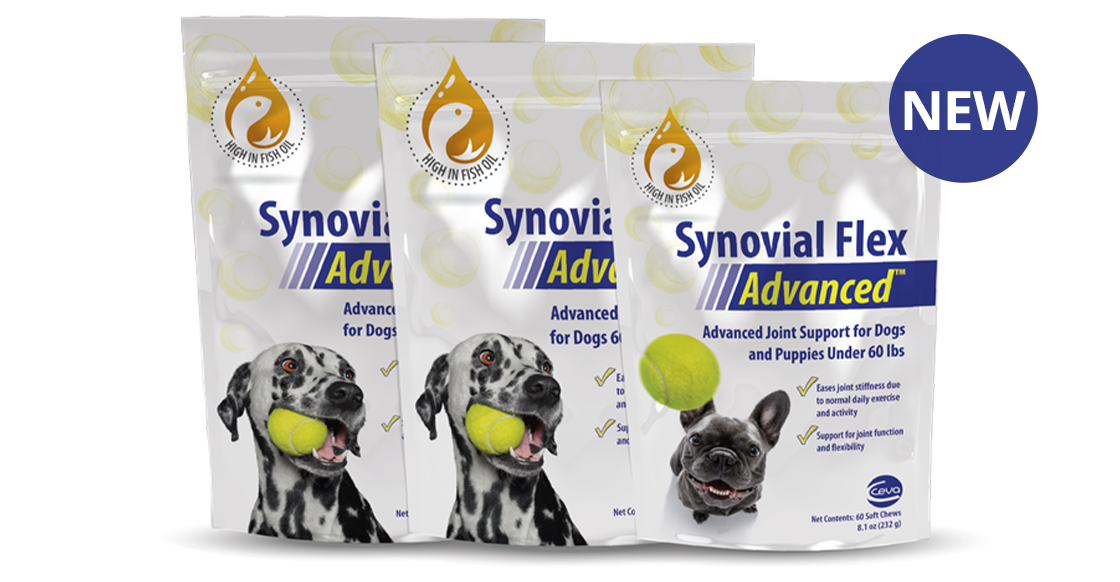 NEW Synovial Flex Advanced™ is a soft chew specifically formulated to support joint function. It offers enhanced levels of key ingredients: glucosamine HCl, chondroitin sulfate, MSM, EPA and DHA, to provide building blocks for synovial fluid, cartilage, and connective tissues. Synovial Flex Advanced™ soft chews provide your dog with a highly palatable, multi-modal approach to support joint function and flexibility.
Glucosamine HCI helps maintain synovial fluid that lubricates joints. It also may stimulate the production of proteoglycans which help maintain the health and resiliency of joints and connective tissues.
Chondroitin Sulfate helps ensure adequate shock absorption and nourishment of the tissues that line the joint.
Methylsulfonylmethane (MSM) helps support cartilage and collagen building blocks.
Eicosapentaenoic Acid (EPA) & Docosahexaenoic Acid (DHA) Omega-3 Fatty Acids to help support a normal inflammatory response for occasional joint discomfort.
Proprietary Blend: Manganese Sulfate, Zinc Sulfate, Citrus Bioflavonoids, Alpha Lipoic Acid, Grape Seed Extract, and Sodium Selenite. This blend provides critical co-factors for cartilage and collagen synthesis and helps fight free radicals generated by exercise.
Is Synovial Flex Advanced™ Right For Your Dog?
Synovial Flex Advanced™ is best for large breed dogs, senior dogs, active adult dogs, working dogs, agility dogs and large breed puppies to help support joint function and flexibility.
Synovial Flex Advanced™ is designed to be a moist, soft and tasty chicken flavored chew. Available for puppies and dogs under 60 pounds (60ct) and over 60 pounds (60ct and 120ct). The resealable bags to help lock in freshness.