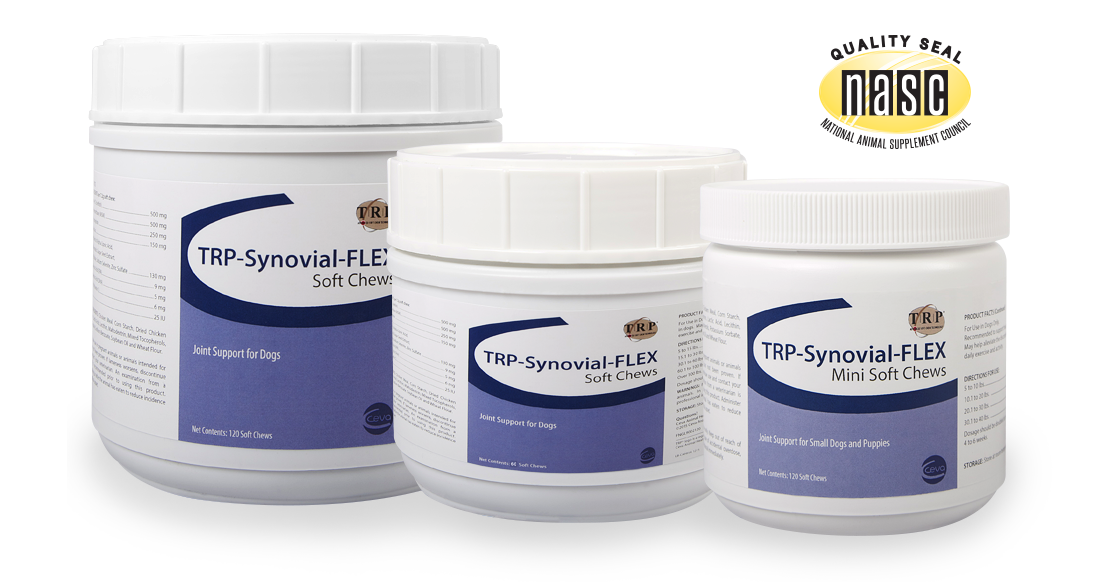 TRP-Synovial-FLEX
Supports Healthy Joint Function In Dogs Of All Ages
TRP-Synovial-FLEX contains a blend of ingredients to support and enhance the functions of joints and connective tissues.
Glucosamine HCI helps maintain synovial fluid that lubricates joints. It also may stimulate the production of proteoglycans which help maintain the health and resiliency of joints and connective tissues.
Perna Canaliculus extract is a source of glycosaminoglycans (GAGs), which are also an important building block of cartilage.
Creatine Monohydrate supports the delivery of energy to muscle cells, which is required for physical activity (exercise).
Alpha Lipoic Acid, Citrus Bioflavonoids, Selenium and other antioxidants in TRP-Synovial-FLEX's proprietary blend help fight oxidative stress and free radicals generated by exercise. Antioxidants also help enhance oxygen utilization.
Is TRP-Synovial-Flex Right For Your Dog?
TRP-Synovial-Flex is best for large breed dogs, senior dogs, active adult dogs, working dogs, agility dogs and large breed puppies to help maintain healthy cartilage and joints.
TRP-Synovial-FLEX is formulated using the TRP Soft Chew technology which locks in freshness for a moist, soft and tasty chicken flavored chew. Available in regular or mini-formula. It helps to meet the needs of dogs of all ages to support healthy joint function.